Vote
(Total
0
Votes )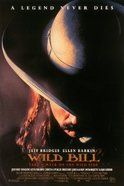 Movies:
Wild Bill
Director:
Walter Hill
Cast:
Jeff Bridges, Ellen Barkin, John Hurt
Production Co:
United Artists, Zanuck Company, The
Genres:
Action, Biography, Western
Runtime:
98 min
Country:
USA
Release Date:
1995
Wild Bill Hickok, famed lawman and gunman of the Old West, is haunted by his past and his reputation. He is loved by, but cannot love, Calamity Jane. Dogging his trail is young Jack McCall, who blames Bill for abandoning the boy's mother and destroying her life. McCall has sworn to kill Bill, and Bill's ghosts, his failing eyesight, and his fondness for opium may make McCall's task easier...